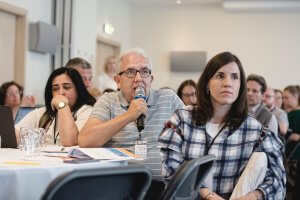 The 16th FEAD Network meeting took place on 4-5th June 2019 in Vilnius and discussed issues related to "Tackling Poverty and Social Exclusion of Older People through FEAD Initiatives". Parents International was represented by Herminio Correa, member of our Supervisory Board in order to raise the voice of parents and grandparents at the event.
Europe has the oldest and most rapidly ageing population of any continent in the world. It is expected that between 2016 and 2060, the proportion of older people in Europe (those over 65) will rise from 19.3 % to 29 % of the total population. In light of this, the EU has acknowledged the need to address this new reality through a range of measures focused on active and healthy ageing. These initiatives focus on facilitating the full participation of older people in society by tailoring public services to their needs. In the context of the Europe 2020 strategy target of reducing poverty in the EU, the specific focus is on the 18.2 % of the most vulnerable older people at risk of poverty and social exclusion in the EU.
The general perception has been that older people were the most protected age group in relation to the consequences of the 2008 economic crisis. This is corroborated by the lowest and continually decreasing at risk of poverty and social exclusion rates (AROPE) for older people between 2008 and 2017, presented in table below and compared by age category. More specifically, in 2017, people over the age of 65 were at lower risk of poverty or social exclusion compared with the overall population (only 18 % of older people, compared with 22.4 % of the whole population).
| | | | | |
| --- | --- | --- | --- | --- |
| AGE Group | 2008 (EU 27) | 2012 (EU 28) | 2016 (EU 28) | 2017 (EU 28) |
| Children | 26,5% | 28,1% | 26,4% | 24,9% |
| Adults | 23% | 25,4% | 24,2% | 23% |
| Older Adults | 23,3% | 19,2% | 18,2% | 18,2% |
To measure poverty and social exclusion, EU statistics use a composed indicator, the AROPE rate. This estimates the proportion of people who are either at risk of poverty, severely materially deprived, or live in a household with a very low work intensity. The AROPE rate does not, however, consider factors that are particular to older people and could increase the risk of poverty and social exclusion, which include poor health, age-based discrimination, isolation, abuse, and reduced mental and physical capacity.  
Besides additional factors that should be considered when measuring AROPE rates for older people, it should be noted that these positive average trends mask significant differences in terms of Member States, gender and the structure of poverty.
Firstly, it is important to note that the structure of poverty has changed, with the material deprivation rate decreasing, and the at risk of poverty rate increasing. The 65+ demographic experiences in-work poverty less frequently, with a rate of 6.9 % in 2016, but this is expected to rise due to new employment models, which will have an impact on the level of pensions. For example, in 2017, the average risk of poverty among older people in Spain and Greece was 9 percentage points (pp) lower than for the rest of the population. On the other hand, the share of the older population at risk of poverty was significantly higher than for the rest of the population in Estonia (+18.6 pp), Latvia (+15.7 pp), Lithuania (+10.7 pp) and Bulgaria (+10.0 pp).10 These differences among EU Member States have different causes, but two in particular could be highlighted: the characteristics of pension systems and safety family networks, and the age and gender structure of the older population.
Research has identified certain effects and characteristics that contribute to higher rates of poverty and social exclusion among older people:  
Women over the age of 65 face a higher risk of poverty or social exclusion than men. Women in general have higher AROPE rates than men in all age groups, but the most prominent difference – of 5.6 percentage points – is for the oldest group (65+). One of the main reasons for this is the gender pension gap, which is the result of continuous discrimination against women by means of pay gaps, employment in lower paid sectors, part-time contracts, and inactive periods spent on caring for children and relatives.  
Poverty rates increase with age due to inadequate indexation of pensions, resulting in their decreasing value in the longer term.
Enhanced social isolation, which can result in poverty and exclusion. Contributing factors include expensive public transport, which can lead to reduced mobility for older people; inadequate public policies that are not tailored to less autonomous older people; and increasing health care related costs.  
Older people with disabilities and those with a migrant background may face higher risks of poverty and social exclusion. In terms of older people with disabilities, one of the causes is related to the probability of developing a disability, which increases with age, consequently increasing the need for additional support. In terms of migrant background, evidence suggests that people with migrant backgrounds are in general more affected by socio-economic risks, which might continue in older age. However, these categories are complex and require more research.  
Finally, the general perception that older people are at a lower risk of poverty compared to other age groups could be explained by several factors. In general, older people are income-poor, but usually hold some types of assets, mostly properties in which they live. However, the value of properties is difficult to estimate, and despite not paying rent, older people still need to bear high maintenance and repair costs. Additionally, they might live in housing that is too large for one or two people, entailing higher energy costs.  
In terms of factors to help combat poverty and exclusion in older age, survivors' pensions, which are welfare benefits paid to a deceased person's relatives (such as a spouse and/or children), are one of the main mechanisms safeguarding women from old age poverty. These pensions compensate women for their lower pensions and can therefore help to bridge the pension gender gap.
Starting the meeting, we were welcomed by the European Commission represented through the Senior Policy Officer Marie-Anne Paraskevas, and by the Lithuanian Managing Authority represented through the Vice-Minister of Social Security and Labour of the Republic of Lithuania Eitvydas Bingelis .
Then Auksé Duksiene, FEAD Programme Manager within the Ministry of Social Security and Labour presented the FEAD project in Lithuania.
1st Panel: Poverty and Social Exclusion in Older Age
Hans Dubois – Research Manager in the Social Policies unit of Eurofound, who presented the current status and main trends of poverty and social exclusion among older people in Europe.
Maciej Kucharczyk – Policy Director for AGE Platform who spoke about developments in and the relevance of poverty and social exclusion of older people.
Paula Cruz – Sociologist at EAPN, who spoked about the experiences of socially excluded older people who live alone.
Grazina Rapoliene – Research Fellow at the Lithuanian Social Research Center who presented the current status and trends of older people in Lithuania.
Workshop 1: Examples of FEAD's work in selected EU Member States – key initiatives
Case study 1: Slovakia – Assisting older people in Eastern Slovakia trough FEAD by Silvia Knapiková and Alena Kniezová from the Slovak Red Cross
Case study 2: Hungary – Providing food aid to socially deprived people with disabilities and to elder people with very low incomes by Gábor Virág and Gábor Veres from the Hungarian FEAD Managing Authority.
Case study 3: Lithuania – Helping people in poverty to avoid exclusion by Aiste Dimskyte project manager at the European Social Fund Agency, the FEAD Intermediary Body in Lithuania.
Project Visits in Vilnius – Group B – "Betanija" Social Center
Project title: "Betanija" Social Center – visit to charity canteen, day center and hygiene room
Project address: M.K Paco str. 4, LT-10309, Vilnius.
About the project
"Bethany" Social Center of the Vilnius Archdiocese Caritas provides a place for people to gather and socialise offering them empowerment and encouragement to make positive changes in their lives. "Bethany" welcomes not only those in need of social assistance (by providing advice, food, clothes. etc.) but also those who want to volunteer to help their fellow citizens.
"Bethany" center acts as a charity canteen, day center and hygiene room. In the center, people who live in social exclusion, poverty or experience a crisis can get free daily warm, fresh food produced in the center's canteen. They can use the hygiene room and get clean clothes. The center also organises afternoon activities. "Bethany" center provides a safe, warm, private space for people who usually spend the day on the streets.
"Bethany" center receives products from the Food Bank – Maisto Bankas, including FEAD food which was not taken by FEAD end recipients.  
To learn more about the project, visit www.betanija.
In parallel to this center there is a Day Center for Young People with problems. Some of them attend this center as an alternative to prison sentences, and others have just served prison sentences. There are also those who have been referred by their school for absenteeism or abandonment and who has been referred by their parents, since they could not do anything of them. Currently there are 10 young people in the center: 7 boys and 3 girls. The Center works with them on social and personal skills and gives them professional training so that they can return to "normal" life with the necessary tools to get them a job and to be self-sufficient.
Workshop 2: The impact of FEAD's work in selected EU Member States – key initiatives
Case study 1: The Netherlands – Living & Learning – "Seniors in the local community" by Toon Kets  – Project Manager of "Seniors in the local community" in the public libraries of Amsterdam and Rotterdam and Lidy Munninghof Community Librarian, Project Manager for "Seniors in the local community"  in the public library of Hague
Case study 2: Greece – "Solidarity in the Drama Region" social partnership – helping older people by Anastasia Stergiopoulou from the Legal Entity of the Municipality of Drama.
93 participants attended this meeting.
The next meeting will be held on 20 September 2019 in Brussels.